NEW ONLINE RECORDED COURSE!
Belly Dance! A Total Body Workout for Beginners
NEW: Belly Dance Cohesion - Stage 1 - See Free Sample Lesson Above
Through deliberate practice of technique drills, you will learn the basics of simple and elegant belly dance movement. With level-up options, the exercises offer opportunities for greater richness and complexity. Through stylized movements and improvisation exercises, you will start to develop your presence, personal taste, and creative expression. As you progress through the stages, you will learn phrases and combinations which can be arranged into choreography or structured group and solo improvisation.
My ultimate hope is that you discover dance is more than an enjoyable pastime. Dance helps you develop self-awareness, discipline, connection to other human beings, the joy of focused concentration, ego dissolution, and your freedom of choice and individual expression. It is a corporeal, intellectual, and emotional experience. Like any studied art, it is a spiritual practice.


Ongoing Multi-Level group classes are Ongoing Tuesdays at 6:15 PM in the Arden Area of Sacramento. Please wear comfortable clothes and shoes. Bring water.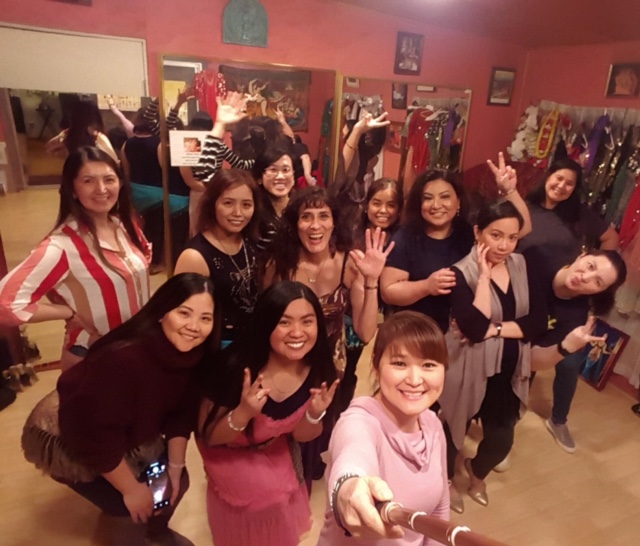 Tuition:
$15 Drop in fee or $45 for four, one-hour group classes. May pay through PayPal using: daleeladances@sbcglobal.net
Please text, email or call Daleela Morad for exact address (916-804-5569) daleeladances@sbcglobal.net


"Daleela Morad gave UC Davis students a fantastic lecture & workshop on Belly Dance & the Four Elements. It was dance therapy at its best!
Thank you Daleela and Danzantes Del Alma for hosting Mental Menudo!"
Roxana Reyes, MFT at UCD Counseling and Psychological Services, March 2014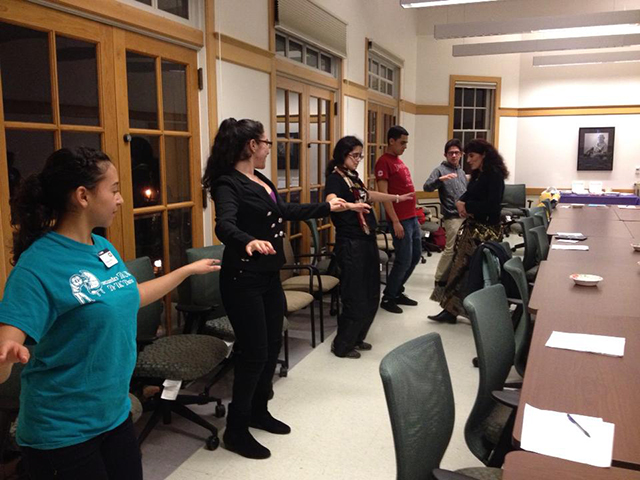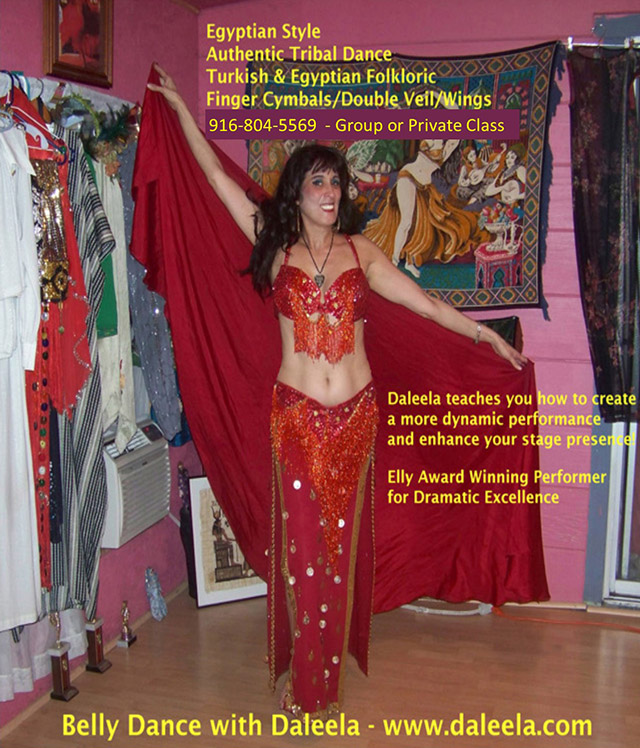 Daleela also offers Private Belly Dance Classes and Workshops.
Private Belly Dance or Shamanic Belly Dance Therapy Sessions Available for Only $45/hour
Receive $20 discount if you prepay for four private sessions.

"I would like to tell you that I was never in my life as happy as when I was taking your classes." Gina, 2004
"I have to take this opportunity to inform you of what an exceptional teacher you are and that your classes are very instructional with techniques and movements." Edaena, 2005
"I feel so fortunate to have had such a wonderful teacher. The gift you've given me - DANCE - will be with me my whole life!" Jenny, 2005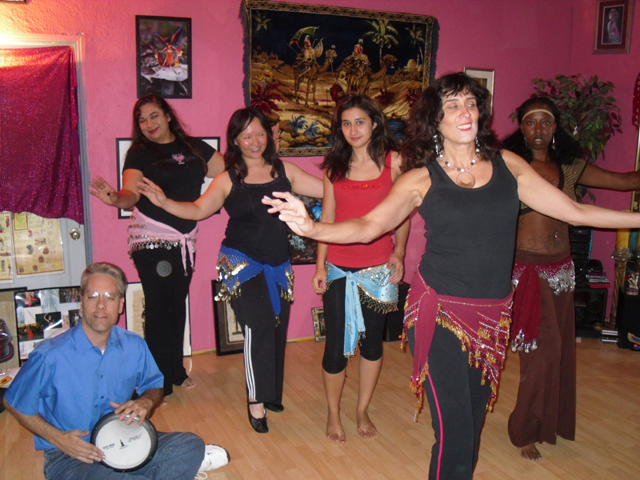 "Your class really helped me feel more confident and joyful. One of the best decisions I've made was to take your class. Thank you for what you do!" Carmen, 2010
"You thought you were teaching someone combos and blocking, but what you were really teaching me was about fully LIVING in this body of mine, loving it for what it is and what it will be, and giving full expression to my movements. Thank you, thank you, THANK YOU." Trudie, 2012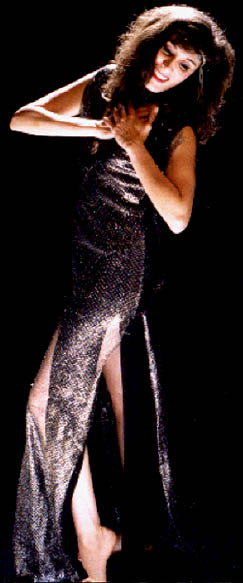 Image by Larry Grant
Here is the greatest gift this ancient art has to offer ALL women:
You will feel more confident, beautiful and sensual because you will BE more confident, beautiful and sensual, inside and out!
So, kick off your tedious work shoes and take this fun and sensual belly dance class and you will learn to belly dance with the best of them!
In this exciting and much sought after class, Daleela, teaches you:
How to shimmy
The importance of the body's connection to the Earth
Basic arm and hand movements
Soft hip and upper body movements including figure 8's, hip circles and undulations
Sharp hip and upper body movements
How to dance to exotic Egyptian and North African rhythms.
You will:
Increase overall muscle tone and gain control over muscles you didn't know you possessed
Feel yourself transported to a time honored past
Learn about the history and meaning of this ancient dance
Learn beautiful and exotic belly dance moves sure to surprise your friends, family, or that special someone, at your next special occasion event.
Be performing authentic Egyptian belly dance movements after just four weeks!
Belly dance, unlike other dance forms, actually works well with a natural, full figured body. It is an earthy dance that has the capacity to help women of all sizes, ages and races feel and express their own unique grace, creativity and beauty. You will enjoy being in your female body, rather than painstakingly criticizing and whipping it into shape. Belly dance exercises every major muscle in the body and is a low impact workout. But, it is so much more than exercise; it is truly an art.


Daleela is as passionate about teaching as she is about performing and welcomes students of all ages, shapes and sizes!
It is recommended that you use Daleela's instructional dance book, Belly Dance Wisdom, as a supplement to her classes. This is a how-to dance book with the basic steps outlined in writing and with how-to photos. Daleela's book has been featured in Sacramento Magazine, The Sacramento Bee, and Channel 3's Common Ground. You can purchase it through http://www.booklocker.com/books/2732.html.
Ms. Morad is the only belly dance teacher in California to be certified by The Sacramento Metropolitan Arts Commission (SMAC) to perform and teach three approved belly dance workshops/shows to K-12 area schools and community organizations. She is listed in their Arts Education Resource Directory. For the past 12 years, Daleela has striven to perpetuate the rich culture of the Egyptian people through her classes and workshops.



Gift Certificates Available
Private Lessons Available
Beginning/Intermediate/Advanced
Non-Troupe Member Cost: $45 per hour
Only $35 for four hours prepaid (Total $140)
No refunds for prepaid classes or workshops
Troupe members get a discount
Please call Daleela: 916-804-5569 for appointment/location